ANGEL Audio / Video RMX by Philipp Geist
ANGEL AUDIO/ VIDEO RMX (2002)
from
Philipp Geist | Videogeist
on
Vimeo
.
directed by phiLipp geist [viDeogeist]
camera patricia lewandowska
© copyright 2002 Philipp Geist / Videogeist
Publikation "Audio • Visual - on Visual Music and Related Media"
+ Angel audio/ video RMX (2002) von Philipp Geist

The Visualization of Noise
Angel Audio/Video RMX (2002) by Philipp Geist
Viola Fissek/Philipp Geist

Text Deutsch
A self-taught artist based in Berlin since 1999, Philipp Geist (VIDEOGEIST) works internationally through the media of video, performance, photography, and painting. In 2008, he projected his video installation Time Fades across the Piazzetta open space of the Kulturforum in Berlin. In 2007, he screened his video installation Time Lines on the facade of the museum for contemporary art Palazzo delle Esposizioni in the center of Rome. His projects are characterized by a complex integration of space, sound, and moving images. Time plays an important conceptual role in his work, in which this apparently fixed and constant variable is repeatedly subjected to variations.
Music and sound are central elements of Philipp Geist's work. He enters into a dialogue with music in many of his creations, and this influences the speed, the intensity of the effects, the degree of abstraction, the colorfulness, and also the content of his images. In the course of this process, visual configurations can emerge that do not necessarily accompany the music, but instead challenge it. The moving image is not given a subordinate role to the music, rather, the two media enjoy equal status. In this way, Geist seeks to overcome the dependency of image on music frequently found in the genre of concert and club visuals.
Angel Audio/Video RMX also transcends traditional audiovisual conventions, especially those of the music video. The work is an experimental and new artistic interpretation of a concert performed by Angel, a musical pairing of Ilpo Väisänen (Pan Sonic) and Dirk Dresselhaus (SchneiderTM). Their noise project combines guitar vibrations with electronic sounds, distorted and transformed by means of feedback and deep, long-drawn-out drones. Angel played the duo concert that Geist would work with as part of the Z2000 exhibition in 2000, performing at a factory floor in Berlin. The concert featured monitors showing a video especially created for the music by Geist (Ill. 1).
The material point of departure for Angel AudioVideo RMX was a recording of this concert with a handheld camera. Geist cut this footage up into tiny video frames, so that the sound was also fragmented and reassembled. This type of rearrangement is often used in the electronic music scene when doing a remix: artists interpret and transform the work of other musicians in order to create something new. Angel Audio/Video RMX is characterized by a distinctive type of interaction between image and sound, unlike the traditional process of creation for a music video, in which appropriate images are chosen to accompany the piece of music. It is true that in this kind of audiovisual remix, the sequence of sounds is determined by the video editing, but the procedure is nonetheless based on an equivalent status for image and sound—since each editorial decision was based on both the audio and the video tracks.
The remix, not unlike Angel's sound, has an arc of tension that gradually rises, often remains constant for a prolonged phase, and in some parts varies only very slightly. Continuous acceleration and increase in intensity are followed by a pause, and then another escalation, and now the more rapid and increasingly brief segments in black-and-white contrast are joined by the complementary colors red and green. The musicians are shown in different positions, variously sitting or standing. The video track is played backward and forward, and the frames alternate between positive and negative.
The drone set is characterized by long notes, humming, and constant buzzing. The occasionally aggressive volume, the perpetual buzzing, and the shrill notes of the noise project are transformed into an intense, almost corporeal visuality capable of producing dizziness or even headaches in the viewer. Geist translates the acute stimulation of the auditory sense into visual irritation. He achieves this not only through a rapid succession of images, in which the eye searches for something to grasp on, but also because the images quiver and the red flickering light becomes more and more intense.
Time and space are central to the concept of the remix. The films shown at the concert as visuals, as well as the walls of the old factory and an adjoining installation featured in the exhibition, are all incorporated into the video. So are the spectators: a recording of their applause is cut up and becomes another component of the new chain of sound events. The boundaries between documentation, citation, interpretation, and new composition dissolve both in the visual and in the auditory realms. In addition to the spatial dimension, the temporal dimension is also shifted: the spectators are still applauding one work, but have long become part of another.
Angel Audio/Video RMX thus represents a space-time distortion. The real-time duration of the performance is altered in that it is chopped up and compressed, which means it is accelerated, but at the same time it is also slowed down and prolonged by looping short passages, and it is extended, because the concert space is audiovisually integrated.
What is special here about the role of Philipp Geist is that he moves from his initial function as a mere supplier of images at the concert to someone who takes possession of the audio track during the remix so as to create a new and genuinely audiovisual composition whose music is determined by the rhythm of the images and whose image sequences are determined by sounds. It is difficult to imagine a closer dovetailing of the two media in the audiovisual production process.
-------------------------------------------------------------------------------------------------------------------------
Text Deutsch
Visuelle Umsetzung von Noise
Angel Audio / Video RMX (2002) von Philipp Geist

Viola Fissek / Philipp Geist

Seit 1999 lebt der Autodidakt Philipp Geist (VIDEOGEIST) in Berlin und arbeitet international als Künstler, in den Medien Video, Performance, Fotografie und Malerei. 2008 bespielte Geist die Fläche der Piazzetta am Kulturforum in Berlin mit der Videoinstallation Time Fades, 2007 das zeitgenössische Kunstmuseum Palazzo delle Esposizioni im Zentrum von Rom mit der flächendeckenden Fassaden-Videoinstallation Time Lines. Auch weitere seiner Projekte sind in erster Linie gekennzeichnet durch ihre Komplexität bei der Integration von Raum, Ton und Bewegbild. Das Thema der Zeit spielt dabei konzeptuell eine wichtige Rolle, die scheinbar feste, konstante Größe der Zeit wird immer wieder Veränderungen unterworfen.
Musik und Sounds spielen eine große Rolle in den Arbeiten von Philipp Geist. In vielen seiner Werke tritt er in einen Dialog mit Musik, welche die Geschwindigkeit, die Intensität der Effekte, den Grad der Abstraktion, die Farbigkeit und auch die Inhalte der Bilder beeinflusst. Hierbei können visuelle Formationen entstehen, welche die Musik nicht zwangsläufig begleiten, sondern diese auch herausfordern. Das bewegte Bild ordnet sich nicht der Musik unter, sondern beide Medien sind gleichberechtigt. So möchte Geist die Abhängigkeiten des Bildes von der Musik, die im Bereich der Konzert- und Clubvisuals bestehen, überwinden.
Auch der Angel Audio / Video RMX überschreitet herkömmliche audiovisuelle Grenzen, vor allem die des Musikvideo-Genres. Die Arbeit ist eine experimentelle, künstlerische Neuinterpretation eines Angel-Konzerts der Musiker Ilpo Väisänen (Pan Sonic) und Dirk Dresselhaus (SchneiderTM). Das Noise-Projekt verbindet die Schwingungen der Gitarre mit elektronischen Klängen, verzerrt und transformiert diese durch Rückkoppelungen und tiefe, langgezogene Drone-Klangstrukturen. Im Jahr 2000 fand das Angel-Konzert in der Zweierbesetzung im Rahmen der Ausstellung Z2000 in einer Berliner Fabriketage statt. Zusätzlich wurden Videomonitore integriert, die eine speziell zur Musik entwickelte Videoarbeit von Philipp Geist zeigten (Abb. 1).
Ausgangsmaterial für Angel Audio / Video RMX war die Dokumentation des Konzerts mit einer Handkamera. Diese Aufnahmen hat Geist in winzig kleine Video-Bildfragmente (Frames) zerschnitten, so dass auch der Ton fragmentiert und neu zusammengefügt wurde. Diese Neuordnung steht ganz in der Tradition des Remixens in der elektronischen Musikszene, in der Musikkünstler die Werke anderer Musiker interpretieren, transformieren und dabei etwas Neues schaffen. Beim Angel Audio / Video RMX entsteht eine ausgeprägte Interaktion zwischen Bild und Ton, im Gegensatz zum herkömmlichen Entstehungsprozess eines Musikvideos, in dem die Bilder auf das Musikstück abgestimmt werden. Im audiovisuellen Remix wird die Tonfolge zwar durch den Videoschnitt festgelegt, aber dennoch beruht die Vorgehensweise auf der Gleichberechtigung von Bild und Ton, denn ausschlaggebend für jeden Schnitt waren sowohl die Audio- als auch die Videospur.
Der Remix weist, ähnlich wie der Angel-Sound, einen Spannungsbogen auf, der sich langsam aufbaut, oft längere Zeit konstant bleibt und sich streckenweise nur in Nuancen verändert: er wird immer schneller, intensiver, dann kommt eine Pause, und anschließend die nächste Steigerung, indem zu den schneller und kürzer werdenden Passagen in den Kontrastfarben Schwarz/Weiß die Komplementärfarben Rot und Grün hinzukommen. Die Musiker werden in unterschiedlichen Positionen gezeigt, abwechselnd im Sitzen und Stehen, die Filmspur wird rück- und vorwärts und die Frames abwechselnd positiv und negativ abgespielt.
Das Drone-Set ist charakterisiert durch lange Töne, ein Brummen und Dröhnen. Die bisweilen aggressive Lautstärke, das massive Dröhnen und die schrillen Töne des Noise-Projekts werden umgewandelt in eine intensive, fast schon körperliche Visualität, mit der möglichen Folge von Schwindelgefühl oder gar Kopfschmerzen. Die starke Reizung des auditiven Sinns übersetzt Geist in eine visuelle Irritation. Das geschieht nicht nur durch die schnelle Abfolge der Bilder, in der das Auge Halt sucht, sondern auch durch das schnelle Zittern der Bilder und des immer intensiver werdenden roten Flackern.
Zeit und Raum spielen eine große Rolle in der Konzeption des Remixes: Sowohl die Filme, die als Visuals in den Konzertraum integriert waren, als auch die Mauern der Fabriketage und eine benachbarte Installation der Ausstellung sind Teil des Videos. Auch die Zuschauer werden integriert: Das Klatschen der Besucher wird zerhackt und somit zu einem weiteren Element der neuen Klangfolge. Die Grenzen zwischen Dokumentation, Zitat, Interpretation und Neukomposition zerfließen sowohl im visuellen als auch auditiven Bereich. Neben der räumlichen verschiebt sich auch die zeitliche Dimension: die Zuschauer beklatschen noch ein Werk, sind aber schon längst Teil eines anderen.
Der Angel Audio / Video RMX stellt letztlich somit eine raum-zeitliche Verzerrung dar. Denn die Echtzeit-Dauer der Performance wird verändert, indem sie zum einen zerhackt, komprimiert und auf diese Weise beschleunigt wird, und gleichzeitig wird sie verlangsamt, verlängert und erweitert, indem kurze Passagen geloopt werden und der Konzertraum audiovisuell integriert wird.
Die Besonderheit der Rolle von Philipp Geist besteht darin, dass er, beim Konzert ursprünglich nur Bildlieferant, sich beim Remix auch der Audiospur bemächtigt, um ein neue, genuin audiovisuelle Komposition zu erstellen, deren Musik vom Bildrhythmus und deren Bildfolgen von Tönen bestimmt sind. Enger lässt sich audiovisuelles Arbeiten im Produktionsprozess kaum verzahnen.
-------------------------------------------------------------------------------------------------------------------------
-------------------------------------------------------------------------------------------------------------------------
PUBLIKATION AUDIO • VISUAL

www.arnoldsche.com
http://www.fluctuating-images.de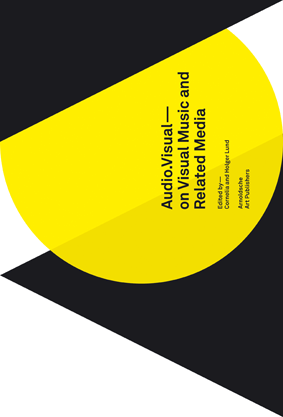 Publikation "Audio • Visual - on Visual Music and Related Media"
+ Angel audio/ video RMX (2002) von Philipp Geist
(DVD/ Text von Viola Fissek)

Cornelia Lund und Holger Lund (Hrsg.)
Audio.Visual - On Visual Music and Related Media
320 Seiten, zahlreiche Abbildungen, Format 17,5 x 25 cm. Hardcover.
Buch mit DVD
€ 39,80 [D] SFr 71
ISBN 978-3-89790-293-0
Lieferbar ab: Januar 2009

Die Publikation Audio.Visual gliedert sich in zwei Bereiche: Der erste gilt der wissenschaftlichen Auseinandersetzung mit dem Thema Visual Music, der zweite stellt in kürzeren Beiträgen zeitgenössische audiovisuelle Praktiken vor und kontextualisiert sie.
Neben einer historischen Verortung bietet dieser neue Band theoretische Ansätze für den Umgang mit Visual Music. Hierbei soll eine Annäherung an das Thema von seinen Rändern her stattfinden (Musikvideo, Expanded Cinema, Games etc.), um einerseits das Phänomen über Schnittstellen mit anderen audiovisuellen Produktionsformen und andererseits über den Versuch einer Abgrenzung besser bestimmen zu können. Die einzelnen Beiträge befassen sich dabei exemplarisch mit unterschiedlichen Aspekten von Visual Music.
Exemplarisch werden zeitgenössische Ansätze in der Produktion und im Umgang mit Visual Music in kürzeren Beiträgen vorgestellt. Die Texte und Abbildungen sollen Visual Music aus der Perspektive von MusikerInnen, KünstlerInnen, KuratorInnen, FestivalleiterInnen und SoftwareentwicklerInnen thematisieren und geben Einblick in das aktuelle Geschehen sowohl im experimentellen Bereich als auch im Bereich des Clubs.
Die im Buch präsentierten Ansätze und Ergebnisse können anhand der DVD mit historischen und aktuellen Beispielen von Visual Music verifiziert und überprüft werden. Die DVD zeigt meist schwer zugängliches Material, unter anderem von Live-Performances.
Visual Music und das Zusammenspiel der Medien. Ein spannendes Buch über neue Medien im aktuellen Geschehen: Vom expertimentellen Bereich bis zu den Clubs.
www.arnoldsche.com
www.arnoldsche.com/showBook.php?id=370&kId=0
Audio.Visual - On Visual Music and Related Media
Contents
Editorial
Cornelia Lund, Holger Lund
Academic Research
Sandra Naumann
Seeing Sound: The Short Films of Mary Ellen Bute
Hervé Vanel
Visual Muzak and the Regulation of the Senses.
Notes on Nicolas Schöffer
Maxa Zoller
Sound in Expanded Cinema: Malcolm Le Grice's Berlin Horse
Matthias Weiß
Images of Performances—Images as Performances.
On the (In-)Differentiability of Music Video and Visual Music
Henry Keazor
"… if you could see it, then you'd understand?"
Visual Music in Mark Romanek/Coldplay, Speed of Sound
Axel Stockburger
An Audience of One.
Sound Games as a Specific Form of Visual Music
Graphic Art by Stapelberg & Fritz
Essays
On Visual Music
Fried Dähn
Visual Music—Forms and Possibilities
Paul Mumford
Visual Music
Laurent Carlier
VJing between Image and Sound
Cornelia Lund
Button-Pushing, Egg-Frying, and Other Performative Acts
Holger Lund
Visual Music in the Context of Multimedia Parties
On Audiovisual Production
Bruce McClure
A Vanishing Point and Sound Projection
Vincent Alaphilippe, François Pirault
Boulez Republic Grand Ensemble
Codec aka Niklas Völker
The Evolution of the Court Jester
Yves Schmid Dornbierer
From Video Games to Audiovisual Instruments
Birgit Schneider
Mikomikona: Sound/Image Performances with Two Overhead Projectors
On Individual Works
Jan Kopp
An Auditory Conduit to the Eye
Sven-Ingo Koch's Music for Walter Ruttmann's Opus IV
Viola Fissek, Philipp Geist
The Visualization of Noise
Angel Audio/Video RMX (2002) by Philipp Geist
Deutschsprachiger Anhang
Editorial
Cornelia Lund, Holger Lund
Wissenschaftliche Texte
Sandra Naumann
Seeing Sound: Die Kurzfilme von Mary Ellen Bute
Hervé Vanel
Visual Muzak und die Steuerung der Sinne.
Notizen zu Nicolas Schöffer
Maxa Zoller
Sound im Expanded Cinema: Malcolm Le Grices Berlin Horse
Matthias Weiß
Bilder von Performance – Bilder als Performance
Zur (Un-)Unterscheidbarkeit von Musikvideos und Visual Music
Henry Keazor
"…if you could see it, then you'd understand."
Visual Music in Mark Romaneks Coldplay-Video Speed of Sound
Axel Stockburger
Ein Publikum der Einzelnen.
Sound Games als spezifische Form von Visual Music
Essays
Zu Visual Music
Fried Dähn
Visual Music – Formen und Möglichkeiten
Paul Mumford
Visual Music
Laurent Carlier
VJing zwischen Bild und Ton
Cornelia Lund
Tasten drücken, Eier braten und andere performative Aktivitäten
Holger Lund
Visual Music im Kontext multimedialer Partys
Zu audiovisuellen Produktionen
Bruce McClure
Fluchtpunkt und Klangprojektion
Vincent Alaphilippe, François Pirault
Boulez Republic Grand Ensemble
Codec aka Niklas Völker
Die Evolution des Hofnarren
Yves Schmid Dornbierer
Vom Computerspiel zum audiovisuellen Instrument
Birgit Schneider
Mikomikona: Ton-Bild-Performances mit zwei Overheadprojektoren
Zu einzelnen Werken
Jan Kopp
Gehörgang ins Auge
Sven-Ingo Kochs Musik zu Walter Ruttmanns Opus IV
Viola Fissek, Philipp Geist
Visuelle Umsetzung von Noise
Angel Audio/Video RMX (2002) von Philipp Geist
DVD
Contents / Inhalt
Walter Ruttmann, Opus IV, 1925/2007
Mary Ellen Bute, Rhythm in Light, 1934–35
Mary Ellen Bute, Tarantella, 1940/1950
Malcolm Le Grice, Berlin Horse (excerpt), 1968
Philipp Geist, Angel Audio/Video RMX, 2002
Boulez Republic Grand Ensemble, Oncle Barry Says, 2005
Fried Dähn, Score, 2006
Anja Füsti, Alexandra Mahnke, Alexandar Nesic, Trigger-Drums & Dance (Live-recording at Exploring Party, Württembergischer Kunstverein Stuttgart, June 16, 2007)
Paul Mumford, Autometa [9], 2007
Mikomikona, Fourier-Tanzformation I + II, (Live-recording at Shift Electronic Arts Festival, Basel, October 27, 2007)
Pfadfinderei & Modeselektor, 2. Halbzeit, 2008
Bruce McClure, Five Minutes More—What Now My Love 1966, 2008
Mit freundlicher Unterstützung:
Landesstiftung Baden-Württemberg, Stiftung Kunstfonds, MFG Filmförderung Baden-Württemberg, Kulturamt Stuttgart
www.arnoldsche.com
-------------------------------------------------------------------------------------------------------------------------
-------------------------------------------------------------------------------------------------------------------------
ANGEL CD "ANGEL"

http://www.bip-hop.com
Cd Mulimedia Part by
viDeogeist [phiLipp geist]
angel audio/video rmx [2002]
angel clip [2002]